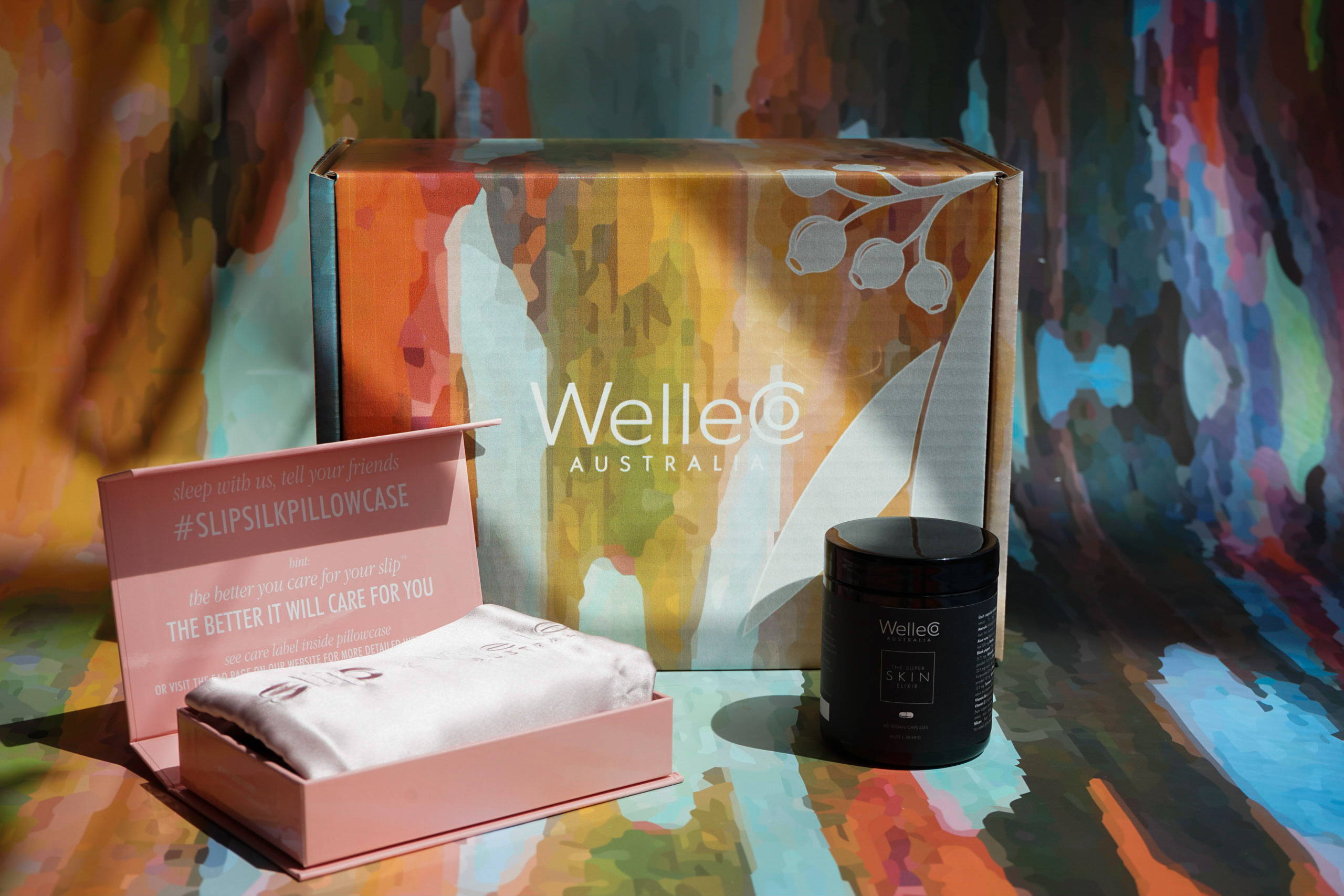 Give the natural beauty of Australia with WelleCo's holiday collection
WelleCo holiday has landed! To celebrate the most joyful time of the year, we've created a collection of limited-edition gift sets and packaging to commemorate the natural beauty of Australia. Our exclusive holiday packaging is inspired by the spectacular beauty of the Australian landscape.
The bark of Australia's native eucalyptus tree serves to create the artwork for our special gifting collection to evoke the quintessential Aussie summer holiday season. Adorned with rich colours that reflect the natural splendour of the gum tree, along with eucalyptus bark and gum nut patterns in vivid hues set against silver tissue paper, create festive decoration that feels true blue Australian.
"The festive season in Australia is filled with so many special memories for me – days with my family spent barefoot in nature, soaking up the summer sunshine and fresh air while listening to the chorus of cicadas as the heat of the day gives way to a welcome cool breeze," says our founder Elle Macpherson.
"To me, Christmas in Australia is a time of such joy, laughter and togetherness spent in nature's boundless beauty that epitomises the spirit and values of every Aussie. As an authentically Australian brand, I wanted to offer everyone the chance to enjoy an authentically Australian holiday season by invoking the beauty of our extraordinary landscape as it encases each item in WelleCo's gifting collection."
We've also developed some special edition sets to help you gift Welle this year, which can be gift-wrapped in our exclusive holiday packaging.
Glow from soul to skin with The Skin Set, our limited-edition gift that pairs the skin-nourishing power of WelleCo's super green capsules with the softest silk pillowcase from SLIP™. Your skin will be supported from AM to PM, with two vegan capsules of The Skin Elixir in the morning to encourage collagen formation, skin healing and regeneration, maintain skin firmness and elasticity and reduce free radicals formed in the body. At night, you'll experience your best beauty sleep ever with an exclusive SLIP™ x WelleCo silk pillowcase, giving your skin and hair a silky smooth cushion to reduce creasing on the skin, enhance rest and keep your hair free from knots.
The Active Set is our limited-edition gift that's made to move. We've paired our clean, lean organic pea protein powder in our iconic WelleCo caddy with an exclusive, on-the-go bag from Aussie athleisure label P.E Nation, ensuring all bases are covered every day, to support an active, healthy lifestyle. WelleCo's delicious, vegan Nourishing Protein supports you during a workout and gives your body an energy boost, without uncomfortable bloating. The WelleCo x P.E Nation Crossbody Bag can be worn across the body or over-the-shoulder and features a removable, adjustable strap that allows for versatility. The modern, sporty design ensures that all your essentials are kept secure, with a velcro flap closure and separate zipper compartment.
Gift our iconic WelleCo caddy to your loved one this holiday season, for a life-long companion on their beauty-through-wellness journey. Rendered in a gloss onyx UV-resistant glass, we present a stylish, practical solution for living your wellness journey consciously and plastic minimal. Start your wellness journey with the WelleCo Caddy, then simply refill and reseal. For life. The WelleCo caddy is available for The Super Elixir™, Nourishing Protein in Chocolate and Sleep Welle Calming Tea.