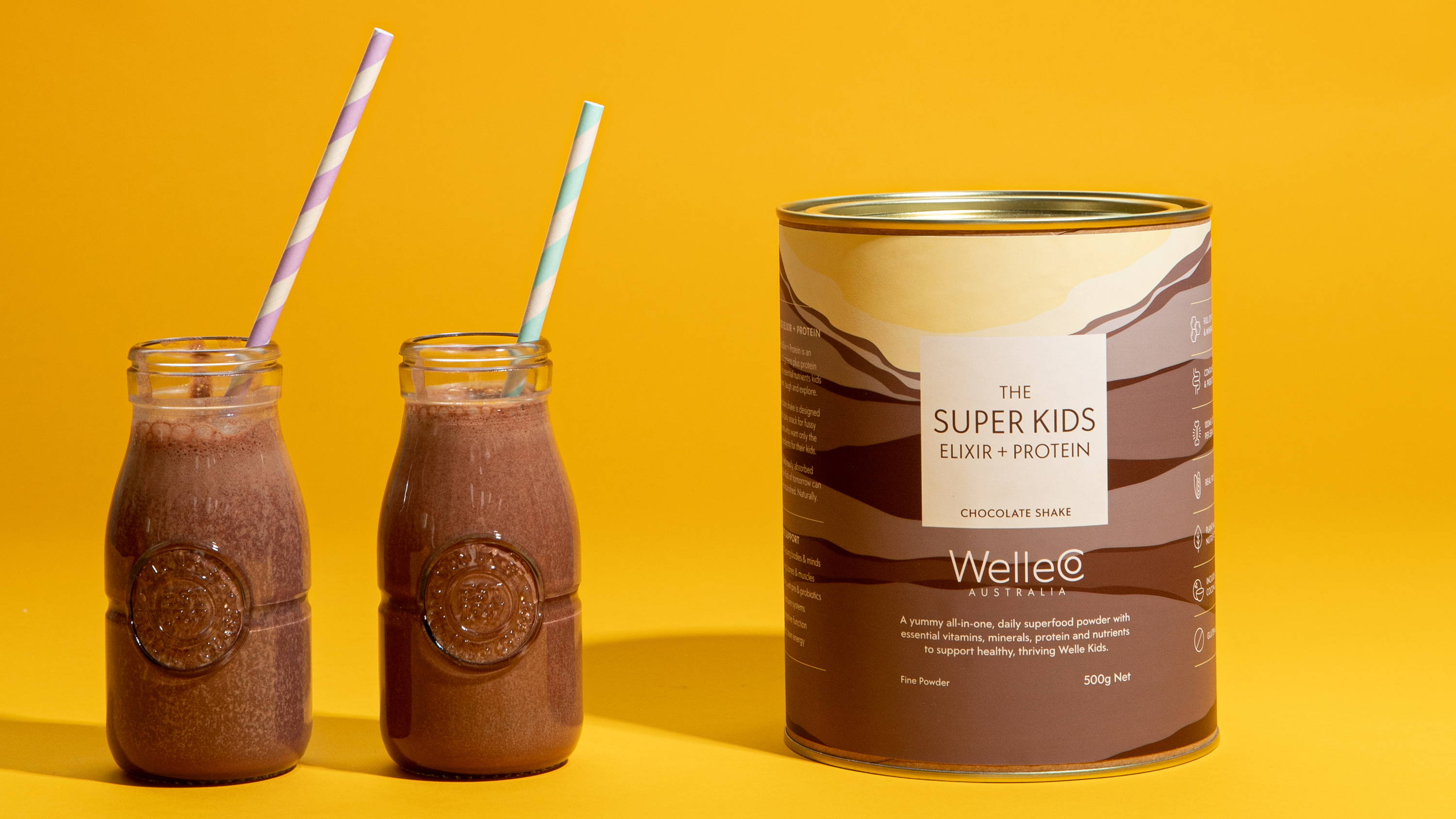 Meet our new and improved The Super Kids Elixir + Protein
You've been asking, and now we are so excited to finally reveal and re-introduce our best-selling kids protein – The Super Kids Elixir + Protein! We've reinvigorated our original protein formula to include even more nourishing goodness, for ages 4­-16.
It's a convenient, all-in-one daily superfood powder to fuel the Welle Kids of tomorrow, as tested (and tasted!) by our discerning panel of expert nutritionists and Fussy Eaters. Chock-full of vitamins and minerals, probiotics and real fruit and veggies, The Super Kids Elixir + Protein supports growing bodies for strong bones, clever minds, healthy tummies and happy tastebuds!
"Nutrition really became a huge part of my life once I had my children. It gave me a whole different perspective on what it means to be well, not just for yourself, but also for them. We've created a product that not only supports their nutritional needs, but which also helps them to understand the importance of good nutrition from the outset, setting themselves up for a healthy and positive approach to their wellbeing in the future," says WelleCo founder Elle Macpherson.
Taken daily, The Super Kids Elixir + Protein encourages growing bones and muscles, nourishes tummies with prebiotics and probiotics, supports healthy cognitive function and immunity, and helps to balance blood sugar for clean, sustained energy. And as a bonus? The yummy chocolate flavour will please even the pickiest kids! It's also gluten and dairy-free, and made in Australia with no artificial colours or flavours.
Like many of the products in the WelleCo collection, The Super Kids Elixir + Protein has been formulated by Dr Simoné Laubscher, one of the world's leading nutritionists, as well as a specialist in early childhood nutrition."Despite parents' best efforts, the reality is that growing children often don't get the vitamins and minerals that their body truly requires to flourish," says Dr. Laubscher.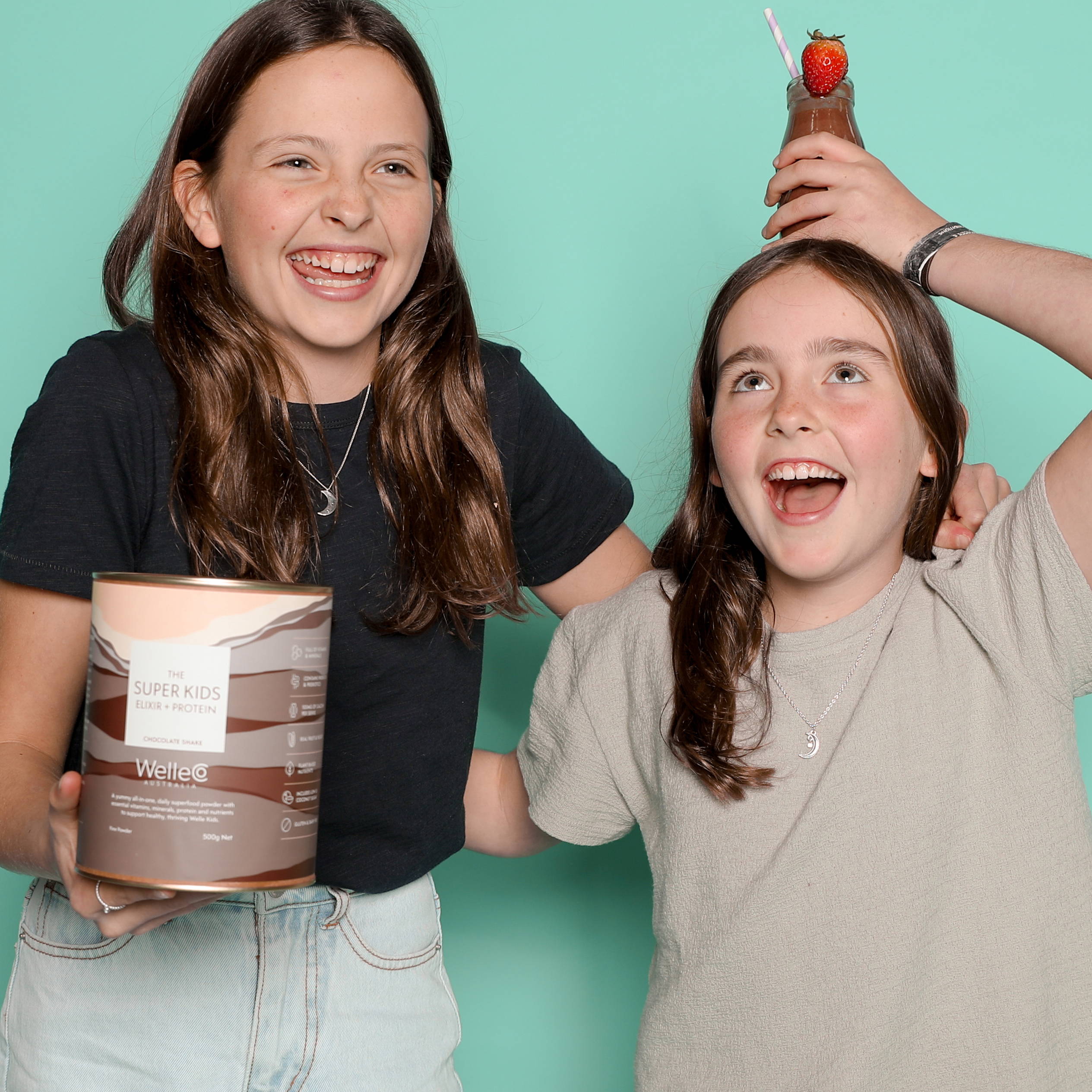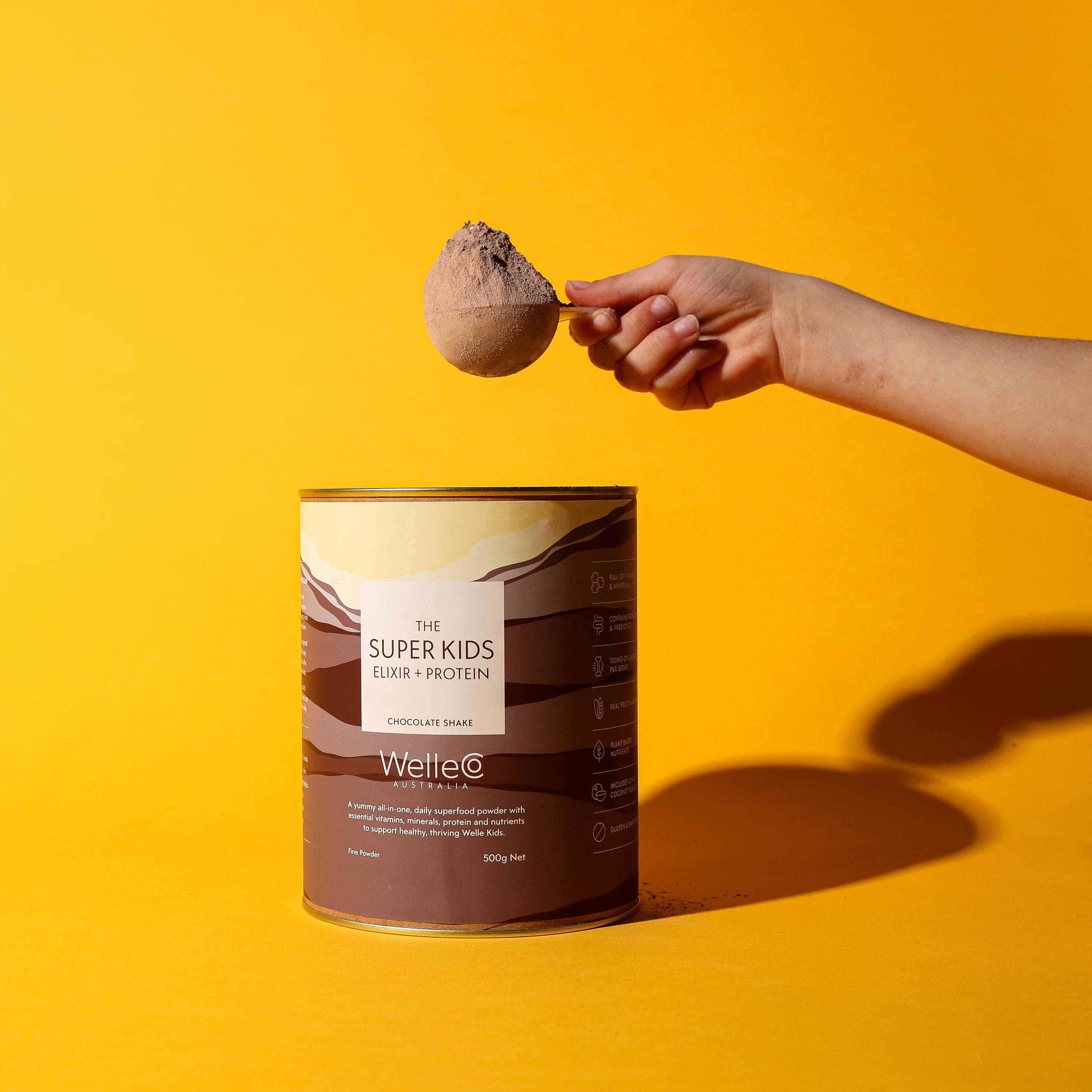 "The nutritional value of the food that we eat has been decreasing as a result of over-farming, while some children are simply fussy eaters and don't consume enough variety of foods to fully support their growing needs. Whatever the reason, this is why – contrary to some belief – supplementation during these early life stages is so important. WelleCo's The Super Kids Elixir + Protein features only clean, premium, plant-based ingredients that are easily absorbed and will help support your little one for the very best start in life."
Shake two level scoops (30g) in 250ml water or any plant-based milk for a healthy, yummy snack.