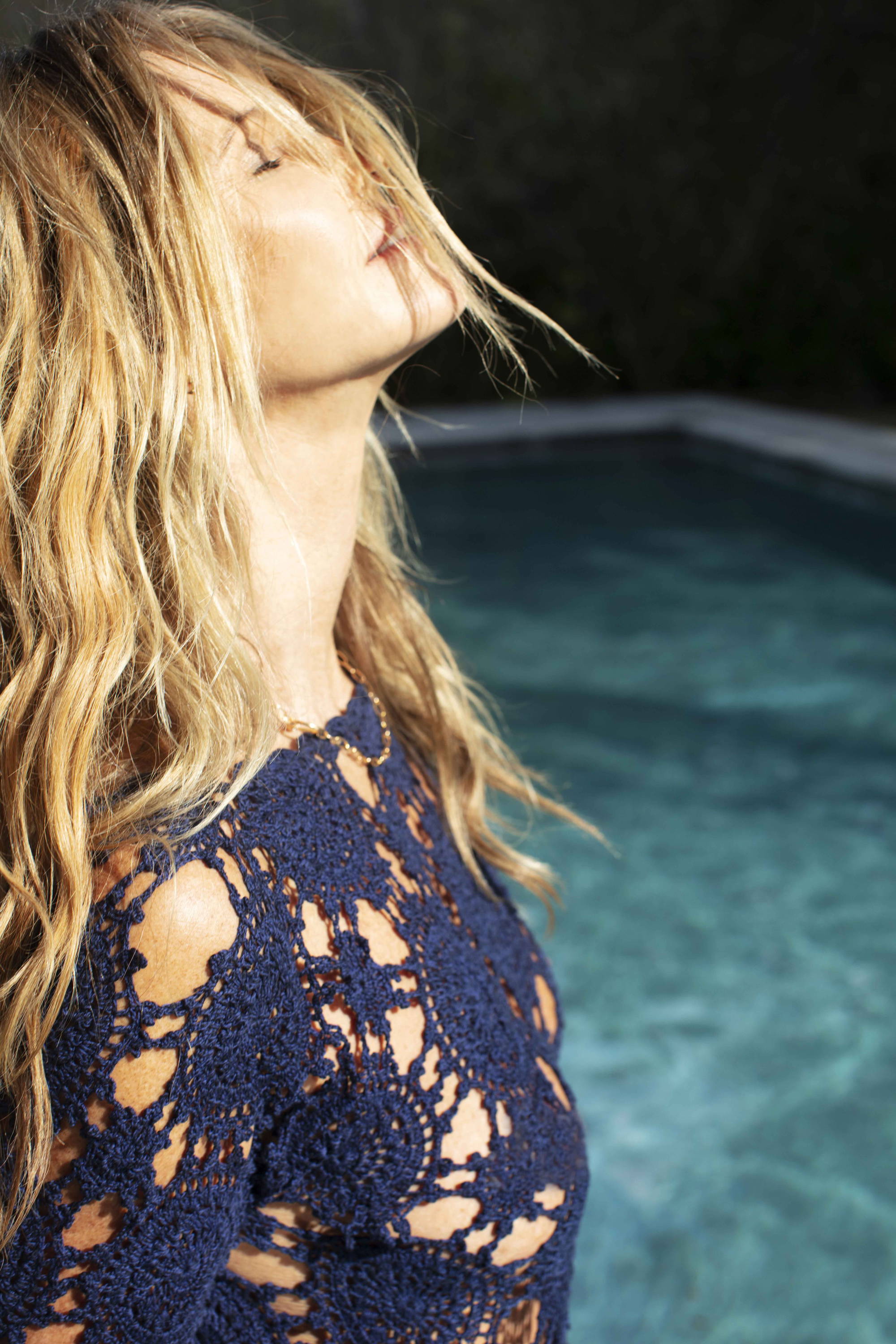 Our founder and Get the Gloss columnist reveals how she achieved healthier, fuller natural hair and the new found confidence it has given her
My sandy-blonde, '70s-style hair had become my calling card over the years. I have naturally fine hair, but lots of it and I've always felt more confident with my hair longer and in my face. Although admittedly, at times it's been too long, too full, too much!
I have been fairly careful with my hairstyling throughout my career and haven't made a major change to my look for 12 years. But I have just cut my hair a feathery, shoulder-grazing style and gone a buttery Scandinavian blonde. My Miami hair stylist, Dafne Evangelista, was adamant we took advantage of my newfound natural thickness (I'll explain how this came about shortly) so we also removed my extensions, so I could enjoy a carefree summer.
It's now a similar length to the picture above from 2022 but a wispier, shoulder-length blonde and less full. It's a look I haven't had the confidence to wear since 2006 (below) - part surfer, part rock and roll. I love the freedom of shorter, lighter hair and it's exactly this sense of empowerment that inspired me to do it again. I'll be sharing pictures of my new look very soon - watch this space!
Otherwise, I have maintained waves of warm blonde or honey brown hair, almost always parted in the centre and hitting anywhere between shoulder and waist. I've always loved natural, spontaneous, feminine styles.
My hair has always been a nod to my Australian heritage so, for me, my surfer-girl style feels nostalgic. I've aimed at making my hair as effortless and versatile as possible so I can go from the beach to the red-carpet with reasonable ease.
Great hair shapes the face, can powerfully enhance our sense of confidence and allows us to express our individual style and creativity. The key is to discover what best suits you - and how to take care of it like a pro. Here's what I've learned over the years:
1. Good hair begins within
I've found the best hair treatment is what you put inside your body. While genetics, hormonal balance, hair care practices, and environmental factors all play a significant role in the condition of your hair, we all know that food is medicine. The gut plays a crucial role in nutrient absorption, and the nutrients obtained from your diet are essential for the growth and maintenance of healthy hair. The combination of botanical herbs, antioxidants, vitamins, minerals and probiotics that feature in The Super Elixir™ and The Hair Elixir will keep your gut microbiome, and in turn your hair, healthy. Since The Hair Elixir was released 18-months ago, my own natural hair has improved out of sight. Some of my stylist friends have noted that my natural hair often looks better than my extensions – hence my decision to remove them for the summer. Some of the best stylists in the world – such as Josh Wood and Joey Scandizzo – now stock it in their salons.
Hair thickness is also a big issue for women and men alike as we age. Hair thinning or shedding -- whether through menopause, ageing, shock, or illness -- can lead to a huge knock in confidence. The Hair Elixir, supports hair growth, thickness and strength, helps maintain healthy hair follicles and supports healthy thyroid gland function. It also helps the body adjust to stress.
(Sidenote: as I age, I anticipate I may have some greys eventually, but that hasn't happened yet. Both Josh and Dafne are in awe of this oddity and I do feel very blessed. I put this down to a nutrient-rich, plant-based, low-stress diet, powered in part by The Super Elixir™.)
2. When you find a good hair stylist, hold them close
Speaking of Josh and Dafne, I have talented stylists around the world who are also some of my dearest friends; talents who I have spent decades learning from, both on and off set. Josh Wood in London is a mane maestro and always keeps me natural and fresh, complementing my skin tone and personal style just the way I like it. 'Polished yet natural' he would say. Having done my hair for over 20 years, Josh knows me better than most.
In Miami, I see Dafne Evangelista who works her magic with my colour and helps me with extensions when I have them, be that for extra length or volume when working in front of the camera. Often I'll use clip-in extensions or tape-ins when I'm working a lot as, it makes it easier to navigate long hours on set and, believe it or not, I also use them to maintain the natural health of my hair. In my experience, extensions tend to take the brunt of the over-styling that is unavoidable with modelling.
Read the rest of our founder's column over atGet the Gloss.