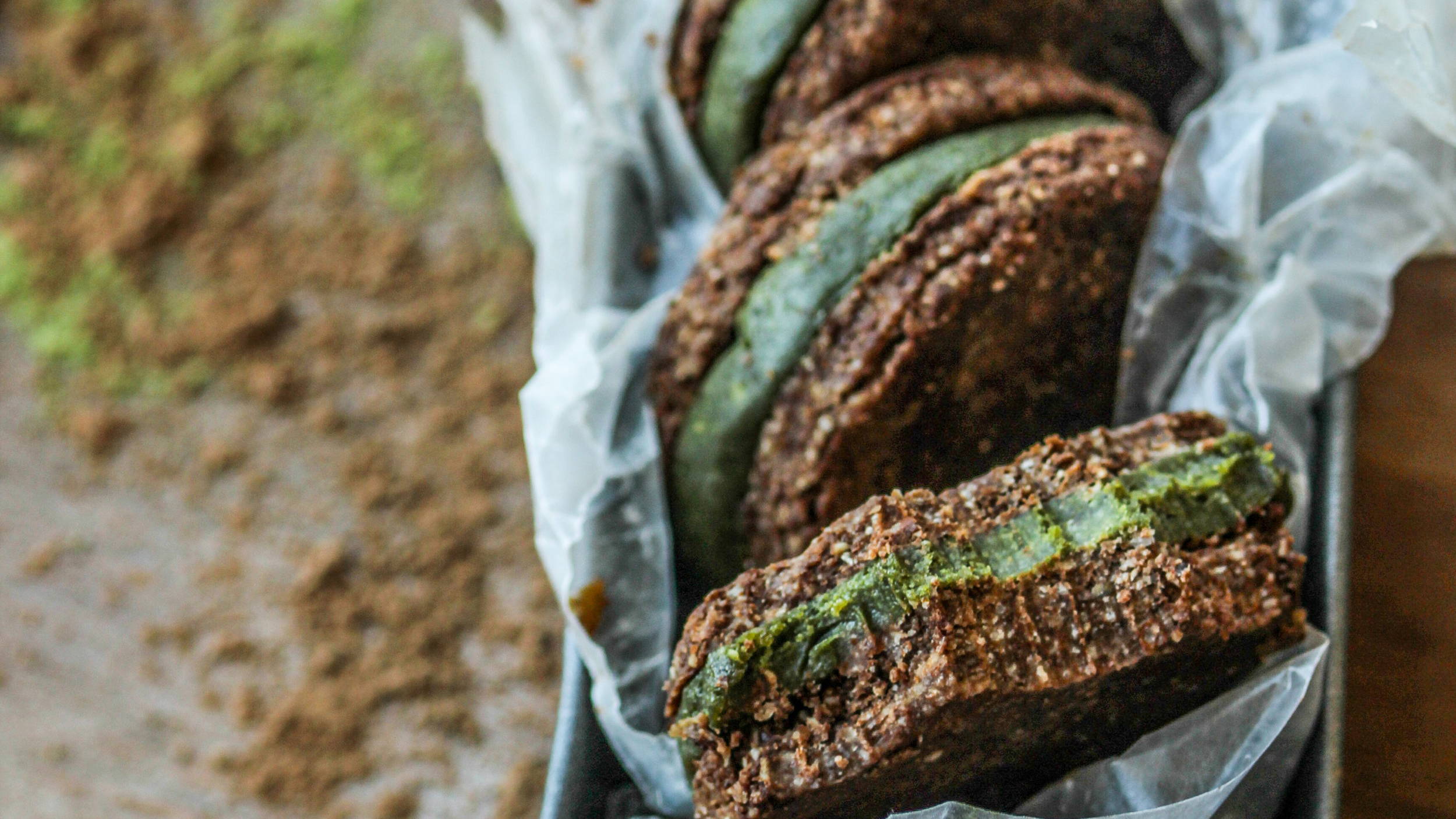 A decadent treat (that's actually packed full of nourishing greens)

Here's WelleCommunity member Jerrelle Guy's healthy twist on everyone's favourite indulgence.
INGREDIENT
1 1/2 cups almond meal
3 pitted medjool dates (make sure they're soft)
3 tbsp cacao powder
6 tbsp melted coconut oil
CASHEW FILLING:
1 cup raw cashews
1/4 cup canned coconut cream (from a can of chilled full-fat coconut milk)
2-3 tbsp raw honey for sweetness
Splash vanilla extract
Pinch sea salt, to taste
1/4 cup of WelleCo's The Super Elixir™ 
METHOD
Make the filling by blending the cashews in a high-powered blender until it turns to flour. Add in the coconut cream, honey, vanilla, and sea salt and blend until creamy, scraping down the sides if needed. Transfer the mixture to a bowl and mix in the elixir until completely combined. Spread the filling out on a lined baking sheet so it's about 1/2 inch thick (you won't use the whole sheet), and allow to set – it thickens slightly as it sits.
Make the cookies by combining the almond meal and cacao powder and then massaging the dates into the mixture until well combined. Add in the coconut oil to bring it all together. Press the mixture out on a lined baking sheet so it's about 1/3 inch thick. Using a 2-inch cookie/biscuit cutter, cut 6 discs from the cookie mixture. Then cut 3 discs from the filling mixture, and sandwich the filling between two of the cookies. You may be able to make another cookie using the leftovers.
Chill the cookies in the fridge until you're ready to eat them (bite off little pieces throughout the day) or freeze them if you aren't planning on eating them right away.
MAKES 3 COOKIE SANDWICHES
Recipe and image credit: @chocolateforbasil