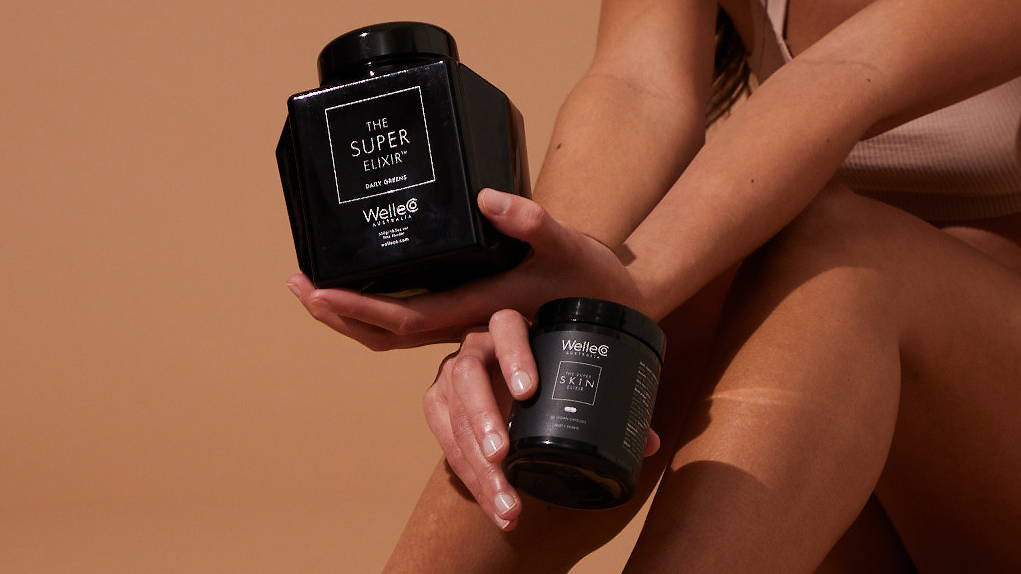 Here's how our latest innovation compares to our iconic super greens
We're so excited to have launched WelleCo's newest beauty-through-wellness solution, The Skin Elixir. We know our vegan capsules will become your daily go-to for healthy skin that radiates from within, but how do they compare to our premium greens product, The Super Elixir™?
Here are the benefits of both The Skin Elixir and The Super Elixir™, including how they work and whether they can be taken together (spoiler alert: they can!).
What does The Super Elixir™ do, versus The Skin Elixir?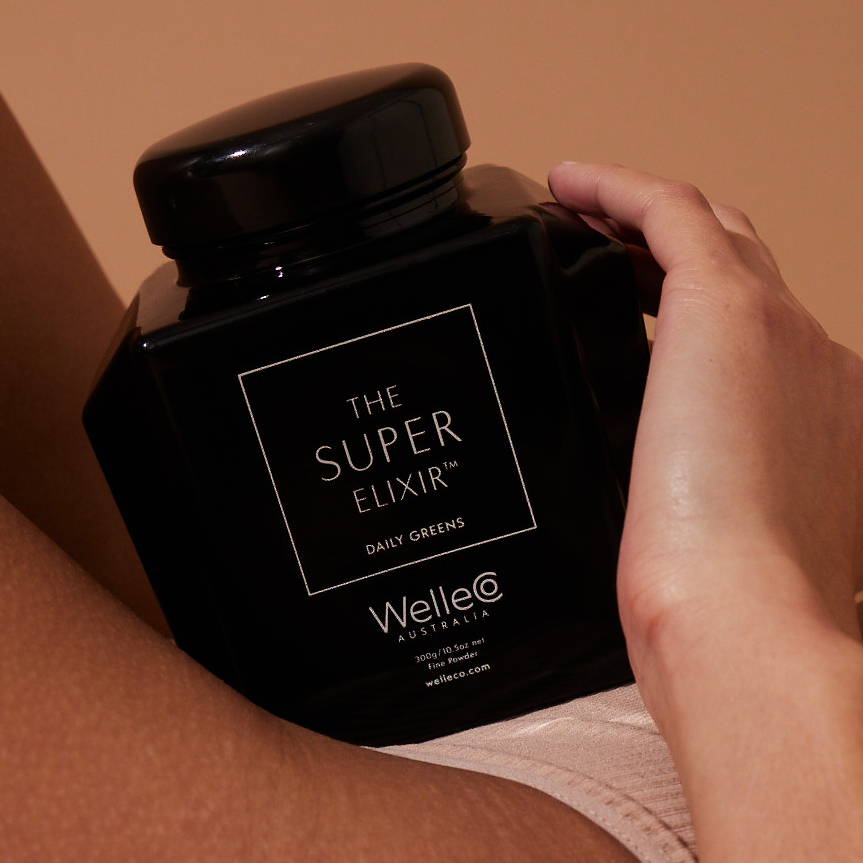 "The Super Elixir™ is our iconic super greens powder, which is a foundational product that supports all 11 systems of the body, from your immune and digestive systems to your hair, skin and nails," explains WelleCo founder Elle Macpherson. "The Skin Elixir is our new convenient greens capsules specifically designed to target the skin. Each capsule contains powerful, skin-nourishing ingredients that support your glow from soul to skin."  
Think of The Super Elixir™ as an all-rounder – a complete solution for your entire body, with your daily dose of wholefoods, herbal extracts, vitamins, minerals, and probiotics that can address everything from your energy levels to your immune system.
Meanwhile The Skin Elixir offers targeted support, with supercharged ingredients specifically chosen to encourage skin healing and regeneration, support collagen formation, and help to maintain skin firmness and elasticity.
How do the ingredients differ between The Super Elixir™ and The Skin Elixir?
As our daily all-in-one, The Super Elixir™ contains more than 40 naturally derived ingredients, with a greens blend, beauty blend, a digestive blend and an immunity blend. We chose to include Horsetail Herb Extract for its natural silica content, which helps to support the production of healthy connective tissue and the formation of collagen for skin, hair and nails health.
It also contains antioxidant powders, such as Acai, Pomegranate and Grape Seed, with a combination of Zinc, Shiitake and Maitake Mushroom Powders to help maintain immune function and provide a source of fibre, B vitamins and amino acids.
Formulated with 18 ingredients, The Skin Elixir capsules take inspiration from The Super Elixir™ with a powerful blend of natural greens and skin-supporting vitamins and minerals. Barley grass, broccoli, and spinach work to nourish skin from within, while antioxidants such as pomegranate, acai, and green tea to help protect the skin against environmental aggressors and free radical damage.
We've also included Vitamin C, B3, B6, E, copper and zinc to support skin healing and regeneration, collagen formation, and maintain skin firmness and elasticity. Acerola Cherry provides a natural source of vitamin C to support bright, healthy skin, while a gut blend of turmeric, black pepper, papaya, methionine, and aloe works to promote healthy digestion* and support the gut-skin connection.
Can I take The Skin Elixir in addition to The Super Elixir™?
Of course! Which product you use is entirely your choice and depends on your individual needs. Both The Skin Elixir and The Super Elixir™ can be enjoyed individually, or you can choose to use them together as complementary support on your beauty-through-wellness journey
For quick, simple skin support with complex benefits, The Skin Elixir provides a convenient, targeted solution that delivers radiant results for your skin. But if you're after complete support for your entire body, you'll also want to incorporate The Super Elixir™ into your routine for optimum wellbeing.
Take both to supercharge your results and double down on your daily dose of skin-loving super greens.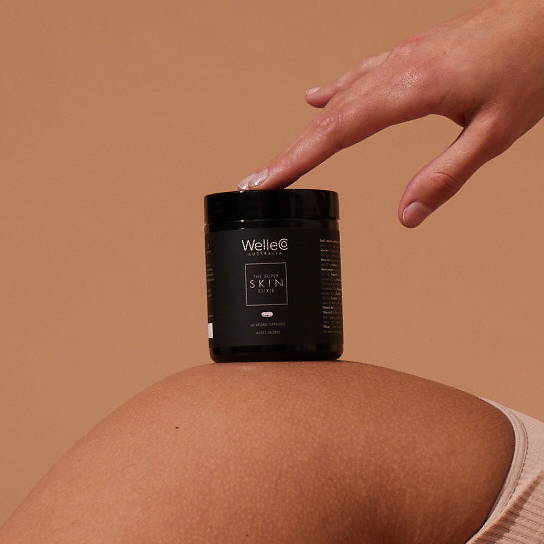 How do I take The Skin Elixir versus The Super Elixir™?
We recommend taking both The Skin Elixir and The Super Elixir™ in the morning. As The Super Elixir™ is a powder, you can take two teaspoons in water or add it into your morning smoothie for breakfast. It's a great way to start your morning and enhance your energy levels for the day ahead.
"The Skin Elixir fits effortlessly into my daily Welle routine. I take The Super Elixir™ first thing in the morning to kickstart my system. Then after I've had something to eat, I supercharge my results by taking The Skin Elixir capsules for a glowing complexion. I put the jar beside my toothbrush in the bathroom, so I remember to take it after breakfast when I clean my teeth and apply my moisturiser. It's part of my daily topical beauty routine," says Elle.
For The Skin Elixir, we advise taking your two capsules after breakfast, as a potent ingredient like zinc shouldn't be taken on an empty stomach. As they come in capsule format, they're easy to travel with or throw in your bag for when you don't have time to take them at home. Like The Super Elixir™, The Skin Elixir can also be opened and added to food or liquid, making it a versatile option.
For the ultimate glow, kickstart your system with The Super Elixir™ at breakfast, followed by The Skin Elixir capsules. Taking both as part of your daily routine will ensure you're completely supported from soul to skin.
*Turmeric is traditionally used in Western herbal medicine to promote health digestion.
Always read the label. Follow the directions for use. If symptoms persist talk to your health