The Collagen Elixir Is Here
Get your fix of wellness and things that inspire us.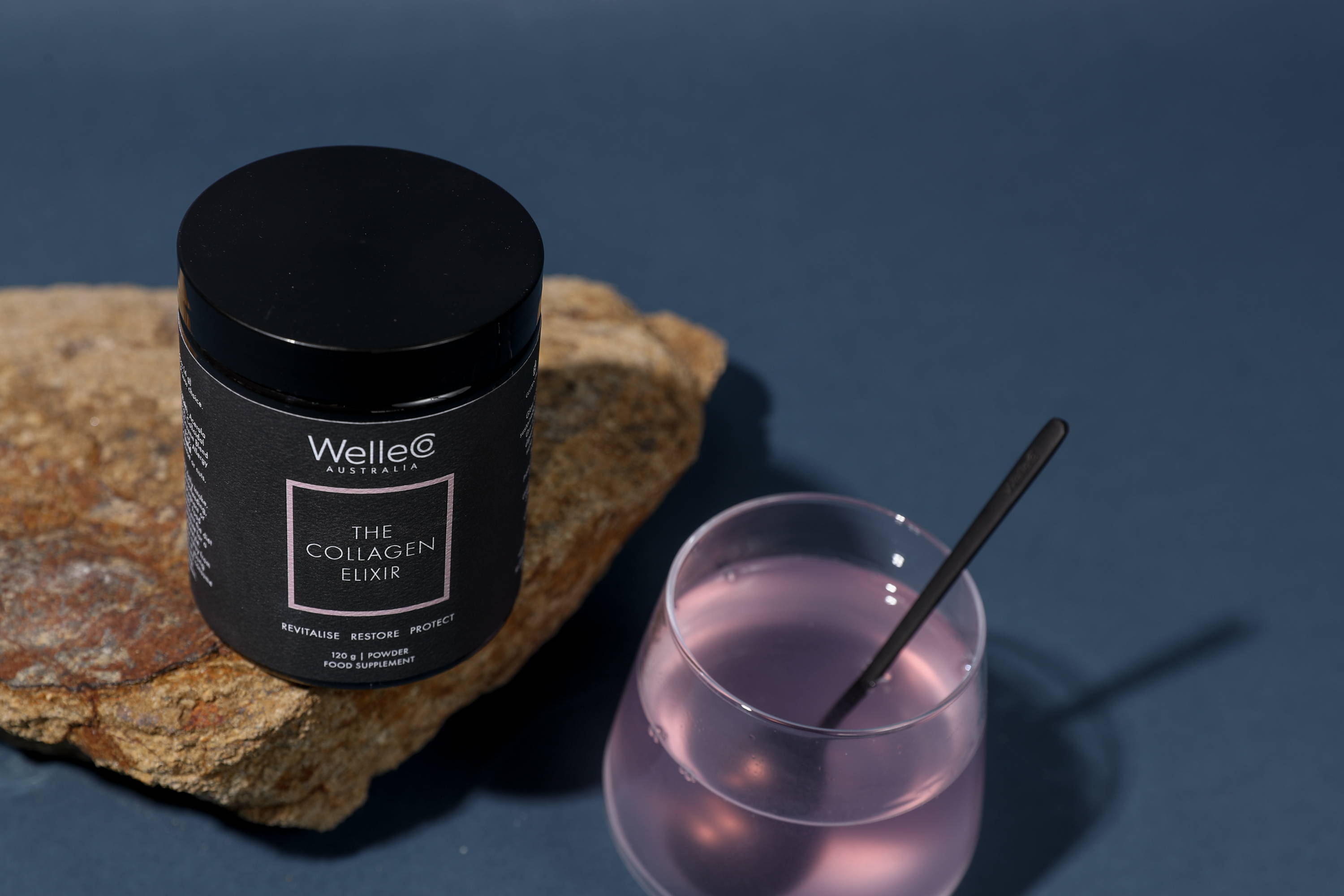 While you've been asking, we've been busy working on a game-changing new addition to WelleCo's ingestible beauty collection – and now we're finally ready to reveal The Collagen Elixir, our new bioavailable marine collagen-infused powder to enhance real beauty-through-wellness.
The powerful blend of sustainably sourced marine collagen peptides with natural vitamin C, hyaluronic acid, silica and digestive enzymes helps to hydrate and support from within, for healthy, radiant skin.The Collagen Elixir is WelleCo's new supercharged blend that contains the highest dose of collagen from wild-caught fish, without the fishy taste.
The Collagen Elixir takes inspiration from WelleCo's hero collagen product, evolving the beloved formula with a fresh blend of the highest grade marine collagen peptides and potent ingredients to amplify the benefits for the skin, body, hair and nails.The sustainably sourced marine collagen works in synergy with vitamin C, hyaluronic acid, silica and digestive enzymes for a powerful formula that supports glowing skin, strong nails, thick hair and a healthy body.
"When the team originally came to me many years ago with the idea to formulate a collagen product, I was initially hesitant. I was already nourishing my body with The Super Elixir™ every morning so I wasn't sure what collagen could offer me. We're always striving for excellence and effectiveness at WelleCo so I was happy to give it a go. After carefully researching the benefits and taking our marine collagen every day for eight weeks, I saw an incredible difference – my nails were stronger, my hair felt thicker, I was glowing and my body felt more flexible. I was converted!" says WelleCo founder Elle Macpherson.

"After a few years of producing our hero collagen product and loving the difference it was making, I asked Dr. Simoné Laubscher to supercharge the benefits. The result? Together, we have created The Collagen Elixir – the most powerful collagen formula on the market. I'm so excited for you to experience WelleCo's new full-powered collagen blend. It contains the highest dose of collagen from wild-caught fish, without any fishy taste. We've also included Hyaluronic Acid for hydration and Digestive Enzymes to ensure that our high dose of collagen is easily absorbed by the body."
With natural Vitamin C from Acerola Cherry and Beetroot, the skin is supported by powerful antioxidants to encourage an even skin tone. Hyaluronic Acid ensures the skin is kept healthy and hydrated, while silica works alongside the highest dose of wild-caught marine collagen peptides on the market to maintain the skin's integrity and structure, and boost skin collagen formation.
The bioavailable blend also contains digestive enzymes for easy absorption, and is free from dairy, soy, gluten, artificial sweeteners, added sugars and GMO. The unique pink colour of The Collagen Elixir is attributed to the natural Beetroot in the formula, but the fine powder is unflavoured and can be conveniently dissolved in any hot or cold beverages.
The Collagen Elixir works to nourish and restore the skin from within, harnessing the proven benefits of marine collagen to support glowing skin that radiates with true beauty-through-wellness. Just mix two teaspoons (4g) with 200ml of water or add to the drink of your choice – simple, with complex benefits.
As part of our conscious commitments, we've chosen fully recyclable packaging with The Collagen Elixir jar made from 100% recycled material. It's also proudly formulated, made, and packed in Australia.
WelleCo subscribers will receive exclusive early access to shop The Collagen Elixir this weekend before it officially launches on Tuesday 9 November. ⁠⁠If you're not already a subscriber, you can sign up now here.